Hypnotherapy for Anxiety and Depression
Hypnotherapy is a treatment that can give you effective help with anxiety and depression. Hypnotherapy utilises hypnosis to work with the deeper mind where emotions are rooted. This enhances the effectiveness of the therapeutic techniques that are used.
Anxiety and depression have some symptoms in common and can be regarded as 'first cousins'. Anxiety and stress, particularly if prolonged, are key elements in the development of depression and in sustaining the cycle of depression – stress / anxiety / worry/ rumination / excessive REM sleep/ tiredness / decreased motivation / low mood.
Cycle of Anxiety / Depression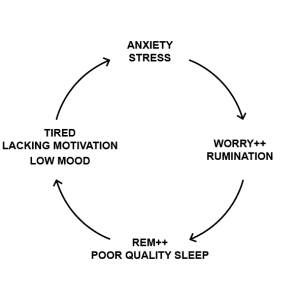 How can Hypnotherapy help?
Solution Focused Hypnotherapy can help to break the cycle of anxiety/depression by working with and alleviating the anxiety, stress and worry, utilising psychological techniques. This helps to alleviate depression symptoms, improving mood and motivation. Hypnotherapy can help to break the pattern of negative thoughts and feelings and restore a good sense of psychological well-being.
At Solution Focused Therapy Dublin, Mary is an experienced hypnotherapist and counsellor / psychotherapist, a psychological well-being therapist who can give you effective help. Mary has a holistic approach to helping you. Mary utilises the best solution focused therapeutic techniques to help you alleviate anxiety and depression and to help you build resilience and maintain a good sense of psychological well-being.
If you are looking for hypnotherapy for anxiety and depression contact Mary and she will be happy to help you.
Hypnotherapy is also now available online for your safety and convenience. Sessions are facilitated via private online video meetings.
Find out more about
TESTIMONIALS – Success Stories
"  Your help when I needed it so badly has been wonderful and I am so appreciative of the changes you have helped me make. K  (Dublin)"